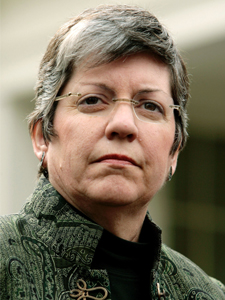 Yesterday, Homeland Security Secretary  Janet Napolitano delivered the Obama administration's plan to deal with drug-related violence in Mexico by sending 500 more federal (agents to the U.S.-Mexico border and also address the issue of  U.S.-purchased guns being smuggled south by violent drug cartels.
The announcement included a comprehensive outline of how $700 million approved by Congress to aid Mexico will be spent. The money was approved under the Merida Initiative, a security pact made under the Bush administration between the U.S., Mexico and countries in Central America.
According to Napolitano, the U.S. departments of Justice, Treasury and Homeland Security will be putting more federal personnel on the border to inspect all Mexico-bound vehicles for weapons and money from drug sales. In addition, the Bureau of Alcohol, Tobacco, Firearms and Explosives will send 100 employees to the border within in the next 45 days to bolster Project Gunrunner, a program that has already resulted in the seizure of thousands of weapons and criminal cases against 1,500 people.
In 2008, more than 6,000 people died in drug-related violence in Mexico, and the situation has only intensified as Mexican police and soldiers battle drug cartels for control of Mexico's border cities. So far this year, more than 1,000 people have been killed – primarily police officers, soldiers and traffickers.
Yesterday, President Obama also discussed his concerns by the increased level of violence, particularly in Ciudad Juarez and Tijuana, and the impact that the situation is having on both sides of the border.
Officials are concerned that the violence could spread to the U.S., though Texas border officials say that has not happened yet. Napolitano said she has not yet decided if she will send the National Guard to the Texas and Arizona borders as the states' governors have requested. She said she will discuss the matter Thursday with Texas Gov. Rick Perry.
As previously reported in La Plaza, Secretary of State Hillary Clinton is scheduled to meet tomorrow with Mexican President Felipe Calderon, and the drug war is expected to be a top priority on their agenda.
The Obama administration in its commitment to reduce the demand for illegal drugs at home is focused on integrating substance abuse services into national health care systems with early screening, diagnosis and intervention as regular preventive medicine, as well as work on preventing millions more from becoming addicted to drugs. The effort is being coordinated at the White House through the National Security Council and the Homeland Security Council. Dan Restrepo, Director of Western Hemisphere Affairs stresses the importance of the U.S.-Mexico relationship and that both sides are committed to its improvement, "It is being done in a coordination fashion on both sides of the aisle."