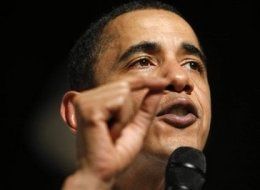 On Thursday evening, President Obama continued his media blitz appearing on Univision's longest-running and most popular music awards show "Premio Lo Nuestro". It was an effort to reach out to the Hispanic community urging them to let their voices be heard in this tough economic time.
Obama said, "Buenas noches. I want to thank the millions of you who voted for tonight's winners, and I also want to thank all of you who voted in that other election back in November – even if it wasn't for me," His pre-recorded message aired during Univision's live coverage of the Latin music awards from Miami's BankUnited Center.
"With the challenges we face right now, it is absolutely critical that you stay involved and make your voices heard. I want you to know that I will always be listening, and my Administration is working hard so that we can expand opportunity for all Americans and reach that better day," he continued. "Now I know you tuned in for 'Premio Lo Nuestro,' so let me get right to it. I don't know who'll get married tonight or who'll get Video of the Year, but I know you're in for some great performances that celebrate the rich diversity of Latin music, and that's good news. "
Obama even spoke in Spanish, "So enjoy the show, y para los nominados que se preguntan si esta será su noche, les digo, ¡si se puede!"
Translation: "And for all those nominees wondering if tonight is their night, let me just say, 'yes you can!' "
His bilingual message of hope and civic engagement at the music event "demonstrates the continued growth and influence of Hispanics in this country and the importance of speaking to them directly," said Joe Uva, Univision's CEO.
Big acts of the evening included Enrique Iglesias, Juanes, Alejandra Guzman, Emmauel, Reggaeton duo Wilsin y Yandel, Puerto Rican salsa band NG2, Aventura, Victor Manuelle and Mexican band La Arrolladora Banda el Limon.
Obama is no stranger to Univision. During his campaign, the Univision website hosted two historic forums with Democratic and Republican presidential candidates and co-hosted a debate with CNN.
A record turnout of nearly 10 million Hispanic voters in 2008 helped reshape the political map by defining the election in key Southwestern states as well as in Florida, Indiana, and Virginia.